last week we made the turkey lasagna again. this time we added some baby bell papers and eggplant. for the eggplant, i boiled them whole first to get them nice and soft, and then just cut them and added them to the meat/sauce mixture. the eggplant was a nice addition.

another meal we revisited was dinner at coco ichiban. we went there last time during spring break. this time cameron had the fried chicken curry, and i had the curry udon. his looked pretty tasty but also kind of gross:
mine was very delicious. this udon didn't have a curry broth; it just had the udon swimming in curry sauce! but, thankfully, the udon came with rice so it was not overwhelming. i ordered an egg with mine because i love the eggs. i enjoyed the curry udon with rice very much. we also shared an order of cream croquettes.
mickey mouse!
a new place (for me) that we tried was sumo ramen, near cameron's house at the kam shopping center.  i had the sumo ramen: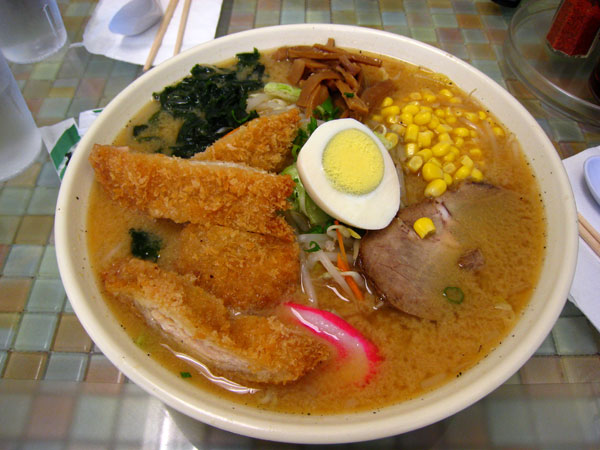 it was quite large, and pretty tasty.  reminded me a lot of of the bowl at had a yusura last time.  it was about the same size with similar broth and similar toppings.  pretty good for such a fast bowl of ramen.
cameron had the mabo tofu ramen:
he said he preferred the one at yasura.
Coco Ichiban
near Pearlridge Mall
Sumo Ramen (Kam Shopping Center)
1620 N School St
Honolulu, HI 96817