one of my favorite chefs on the food network is actually tyler florence (apparently other people don't agree since they don't show his shows that much anymore :(). he used to host the show food 911, where he went to people's houses and helped them cook recipes they've had trouble with, and his more recent show is tyler's ultimate, where each episode he find the ultimate recipe for a particular dish. his recipes always look really delicious, but doable, and he seems really nice and helpful without seeming condescending (like some other chefs on the food network).
i was looking through some of his recipes and i found this one that looked pretty good, so i made it.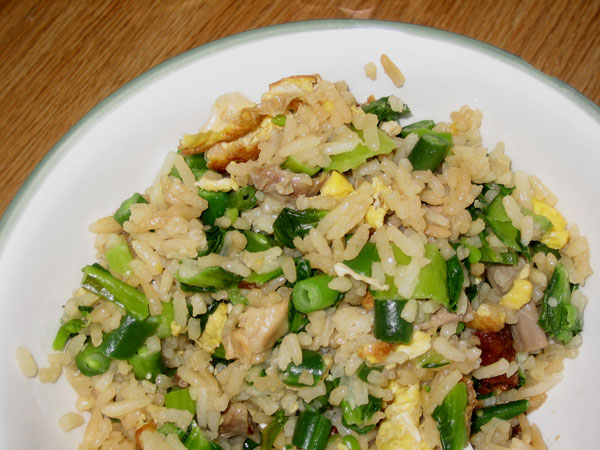 duck fried rice with napa
from food network, tyler florence, food 911
5 tablespoons peanut oil
2 shallots, thinly sliced
2 garlic cloves, minced
2-inch piece fresh ginger, peeled and grated
Pinch red pepper flakes
1 small head Napa cabbage, cored and chopped
1 (8-ounce) can straw mushrooms, drained and rinsed
1/2 cup frozen peas, run under cool water for 2 minutes to thaw
1 generous pinch kosher salt
2 large eggs, lightly beaten
1 pint cooked long-grain white rice
3 tablespoons soy sauce
1 cup cooked duck meat, cut in pieces
Fresh cilantro leaves, for garnish
Heat 3 tablespoons of the peanut oil in a wok or large non-stick skillet over medium-high flame. Give the oil a minute to heat up, then add the shallots, garlic, ginger, and red pepper flakes; stir-fry for 1 minute until fragrant. Add the cabbage, mushrooms, and peas, stir-fry until the cabbage is wilted and soft, about 8 minutes; season with a nice pinch of salt. Remove the vegetables to a side platter and wipe out the wok.
Put the pan back on the heat and coat with the remaining 2 tablespoons of oil. When the oil is hot, pour the eggs into the center of the pan. Scramble the egg lightly, then let it set without stirring so it stays in big pieces. Fold in the rice and toss with the egg to combined well, breaking up the rice clumps with the back of a spatula. Return the sauteed vegetables to the pan and moisten with the soy sauce. Toss everything together to heat through and season again with salt. Spoon the fried rice out onto a serving platter, lay the pieces of duck on top and garnish with cilantro.
comments: if you look at the picture, you can tell i didn't use napa. the chinese supermarket didn't have napa?! well, there were a couple heads left, but they didn't look good, so instead i bought some baby bok choy, and instead of frozen peas, i found some crispy green beans that looked really good and fresh. also, i don't like mushrooms as much, so i just left those out, and i used four eggs instead of two because i used more rice than he did. eggs are also delicious.
mmm… this was really tasty. i put in a lot of vegetables (a whole pack of baby bok choy and a bunch of handfuls of the green beans), which was very yummy. and i bought half a duck from sam woo, which i tore the meat and skin off of and cut up into chunks. i ended up using about twice as much rice as he used, but i added extra of everything so it was good. other people on the food network website said they used the chinese bbq pork, which i'm sure also works really well. but duck skin and duck fat is so delicious.