yesterday i finally had cookie success! 🙂 it was quite exciting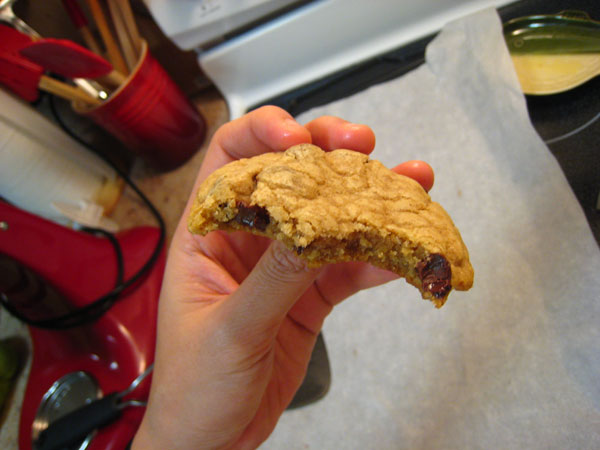 thick and chewy chocolate cookies
from the america's test kitchen family baking book
2 cups plus 2 tbsp (10 2/3 oz) AP flour
1/2 tsp baking soda
1/2 tsp salt
12 tbsp (1.5 sticks, 6 oz) unsalted butter, melted and cooled
1 cup packed (7 oz) light brown sugar
1 cup (3.5 oz) granulated sugar
1 large egg
1 large egg yolk
2 tsp vanilla extract
1.5 cups (9 oz) semisweet chocolate chips
1. adjust an oven rack to the lower-middle position and heat the oven to 325F. line 2 large baking sheets with parchment paper. whisk the flour, baking soda, and salt together in a medium bowl.
2. in a large bowl, beat the melted butter and sugars together with an electric mixer on medium speed until smooth, 1-2 minutes. (make sure not to overbeat at this point, or else the cookies will come out flatter, a little crunchy on the outside, and not as chewy – kinda like the CDS cookies, if anyone remembers those from caltech). beat in the egg, egg yolk, and vanilla until compbined, about 30 seconds, scraping down the bowl and beaters as needed.
3. reduce the mixer speed to low and slowly add the flour mixture until combined, about 30 seconds. mix in the chips until incorporated.
4. working with 2 tbsp of dough at a time, roll the dough into balls and lay them on the prepared baking sheets, spaced about 2 inches apart. bake the cookies, one sheet at a time, until the edges are set and beginning to brown but the centers are still soft and puffy, 15-20 minutes, rotating the baking sheet halfway through baking.
5. let the cookies cool on the baking sheet for 10 minutes, then serve warm or transfer to a wire rack and let cool completely.
comments: yay! i finally managed to make a soft and chewy batch of cookies. i tried this recipe a couple months ago, but they didn't come out soft and chewy. it's because i didn't weigh the ingredients! here's how they looked:
they tasted good and everything, but they weren't the soft and chewy kind of cookie. they were the kind that is more crumbly and hard. i consulted harold mcgee, and as i suspected, a higher flour ratio leads to a more crumbly cookie. also, the cookie won't spread out as much and keeps the shape of the batter better. another interesting fact that explains what the brown sugar is for – "other forms of sugar – honey, molasses, corn syrup – tend to absorb water rather than crystallize, so when heated they form a syrup that permeates the cookie, helps it to spread, and firms as it cools, making it moist and chewy." hmm, also a higher proportion of whole eggs makes cookies more cake-like. the book also has typical ratios for various types of cookies and doughs. thanks, harold mcgee! 🙂
anyway, this time the cookies came out just like the pictures in the book, and they tasted soft and chewy 🙂 there is definitely something magical about a warm freshly-baked cookie.