week 3 was a day shorter because of labor day. it was the first week of service. our class makes the breads and desserts for ka'ikena, the school's fine dining restaurant. chef did a lot of demos and showed us to how to plate the desserts for the cart. the week started with demos of choux paste (for cream puffs), pastry cream, and the apple filling for the apple pie. christine and i made our yellow chiffon cake. they rose nicely in the oven.
chef demoed covering the brownies with chocolate ganache.
then going over it with an icing comb to give it a simple design. later it gets topped with a ganache rosette and chocolate shavings.

he also demoed making filigrees, which were for the fruit tarts.

he's making some chocolate shavings on the marble table.

he iced two of the strawberry chiffon cakes.

on the day of service, they're finished with some fresh strawberries dipped in glaze and toasted almonds.

we also worked on making the chocolate cream pie filling with the pre-baked flaky pie shells brushed with chocolate.

after chilling, they are topped with whipped cream. we used an icing comb to create that texture on the top.

pipe a nice border.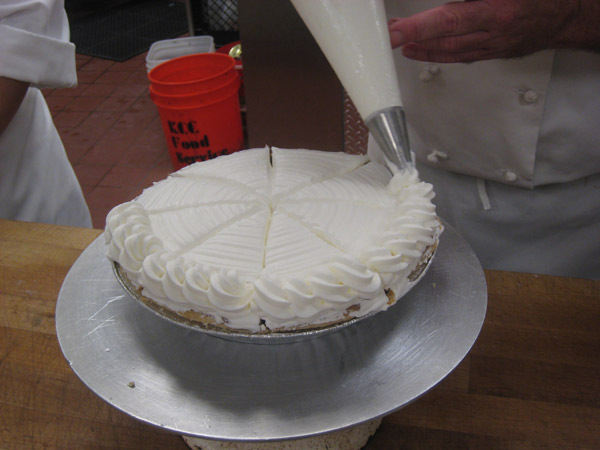 finish with some chocolate shavings on the sides and in the middle. a sprig of mint gives it some nice color.

apple pies are baked and topped with some powdered sugar.

the tarts and cream puffs are filled with diplomat (pastry cream mixed with an equal amount of whipped cream) and topped with fruits.

here they are ready for the dessert cart.

this week chef also demoed sweet dough and three ways to use it. here's some sweet bread twists filled with a chocolate cake filling.

here are some cinnamon rolls ready to go in the oven.

sticky buns!

topping the cinnamon rolls with icing after they come out of the oven. delicious.