hooray! another thanksgiving. i think thanksgiving might be my favorite holiday now. this year i made yams, ham, and stuffing. yum yum yum.
first up, yams roasted at 400F for about an hour, then mashed up with a little butter and brown sugar, topped with marshmallows.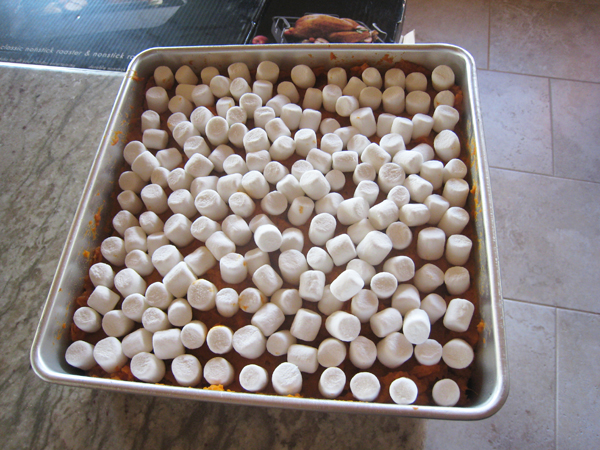 brown in the oven for 10-15 minutes. this is what my mom always made at thanksgiving, so i missed it the past few years. it was nice to have it again! nice toasty marshmallows.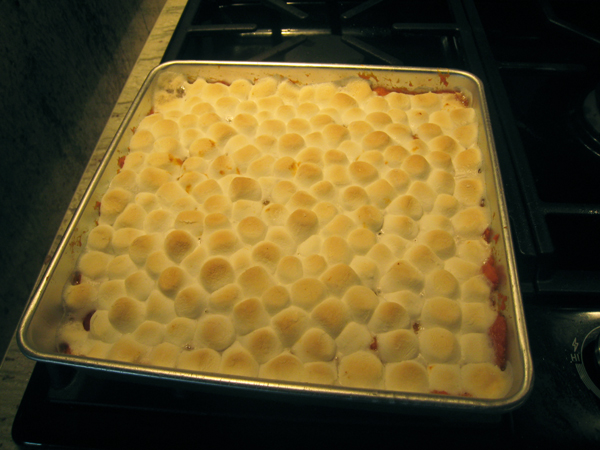 next up, mr. ham. seems like the ham came out extra good this year. the mango pineapple glaze was nice and thick and flavored the ham nicely.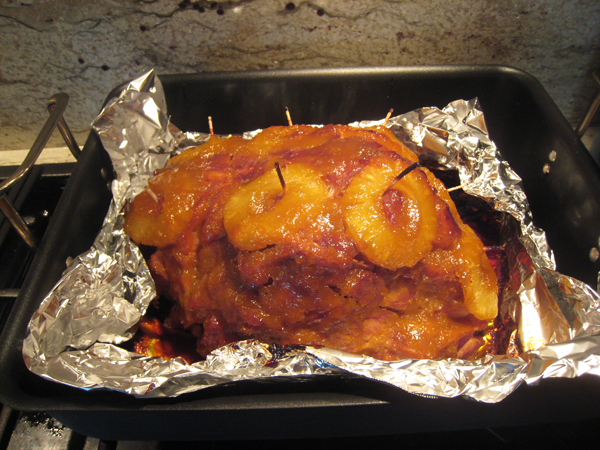 even the pineapples tasted good this year.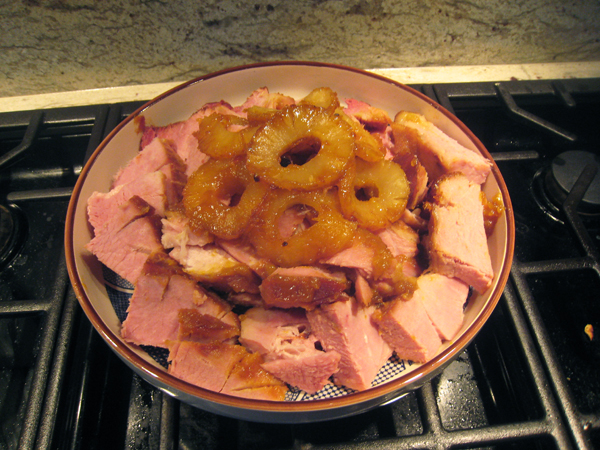 finally, the stuffing. i really like this stuffing recipe (see below). it has bacon, caramelized onions, apples, and sage.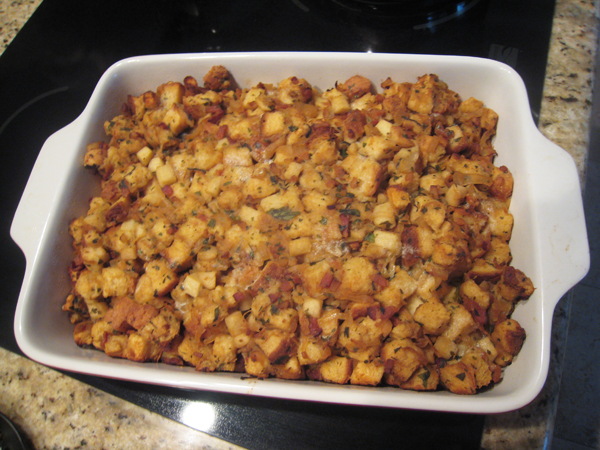 i also am now the official turkey carver. cameron's dad made the turkey in the hibachi. it was really flavorful and not dry at all.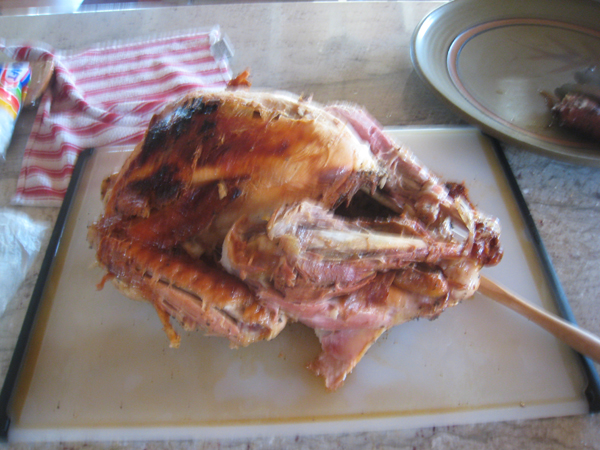 a delicious thanksgiving feast: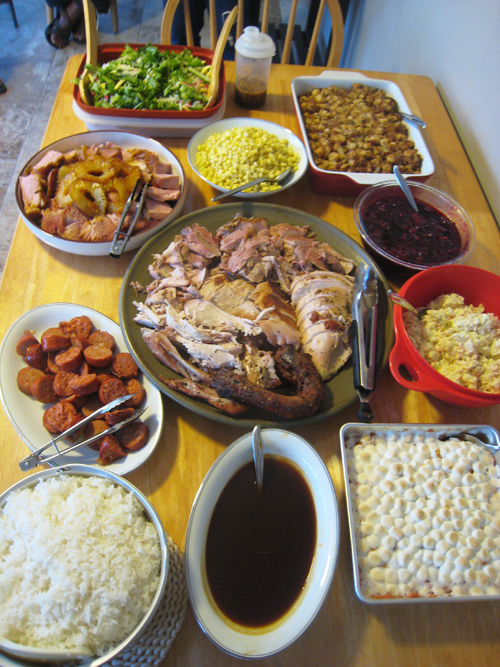 my first plate: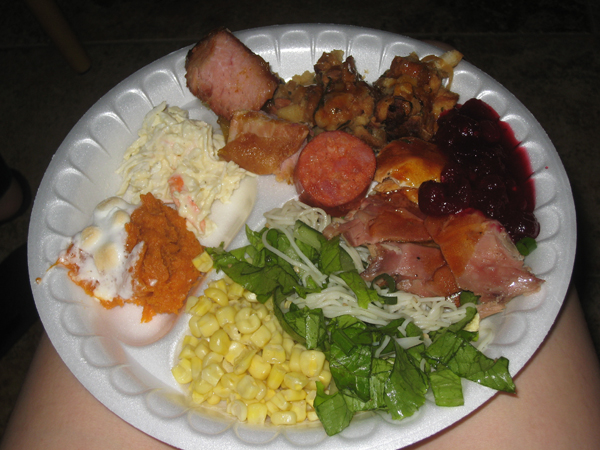 anyway, hope everyone had a great thanksgiving!
bread stuffing with bacon, apples, sage, and caramelized onions
from the new best recipe by america's test kitchen
1 pound bacon, cut crosswise into 1/4″ strips
4 medium onions, sliced thin (7 cups)
2 granny smith apples, peeled, cored, and cut into 1/2″ cubes (2 cups)
1/2 tsp ground black pepper
1 tsp salt
1/2 cup fresh parsley leaves, chopped fine
3 tbsp fresh sage leaves, cut into thin strips
12 cups dried french or other white bread cubes
1 1/4 cup chicken stock
3 large eggs
some butter
1. cook the bacon in a large skillet or dutch oven until "breakfast brown" and crispy. Remove with a slotted spoon and let drain on paper towels. discard all but 3 tbsp of the bacon fat.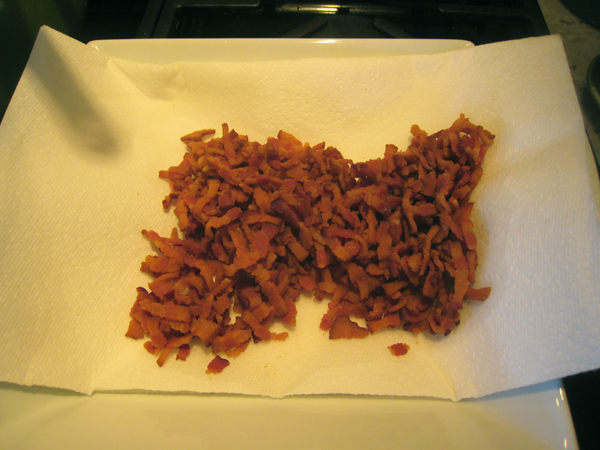 2. increase the heat to medium-high and add the onions and 1/4 tsp salt. cook the onions until golden in color, making sure to stir occansionally and scrape the sides and bottom of the pan, about 20 minutes. reduce the heat to medium and continue to cook, stirring more often to prevent burning, until the onions are deep golden brown, another 5 minutes. add the apples and cook 5 minutes. transfer the contents to a large bowl.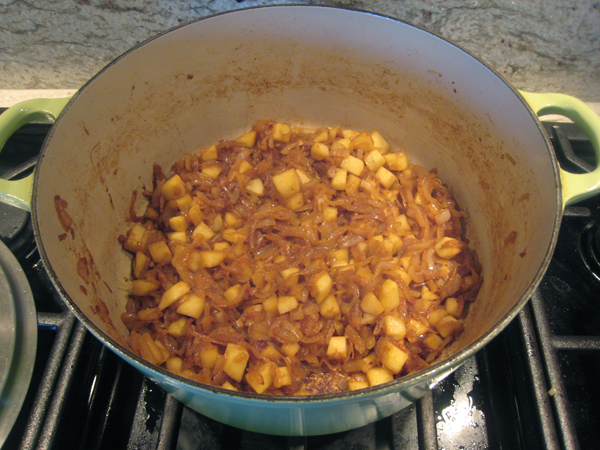 3. add the reserved bacon, 3/4 tsp salt, the pepper, parsley, and sage to the bowl and mix to combine. add the bread crumbs.
4. whisk 1 cup of the stock with the eggs. pour the mixture over the bread cubes. gently toss to distribute the ingredients evenly. transfer to a casserole dish. when ready to bake, drizzle the remaining 1/4 cup stock over the stuffing. dot with pats of butter and cover with a piece of foil that has been smeared with butter. bake in 400 degree oven for 25-30 minutes, remove the ofil, then continue to bake until a golden brown crust forms on top of the stuffing, about 15 minutes longer.