this is my buddy kiwi: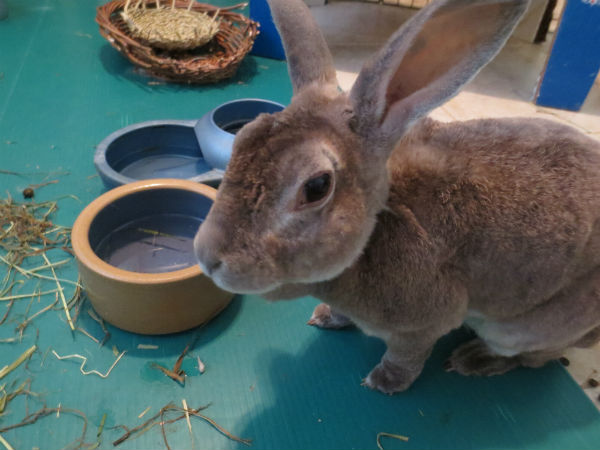 he is a very special rabbit. I first met him about six years ago. he was my friend's rabbit, and sometimes I would bunny-sit him and my friend's two other rabbits when she went on vacation. he was quite friendly and not afraid of strangers. unfortunately he and the other two rabbits did not get along so he had to live alone.
in November 2012 he was in rather bad shape and my friend was going on a longer vacation. he had stopped using his litter box so the floor of his living area was very dirty with pee and poo. he also was not eating hay, which should be the staple of any rabbit's diet. he seemed to have stopped grooming himself as well so his fur looked matted and dirty. he seemed kind of sad to be honest. he no longer had that happy friendly demeanor that i remembered. he also had a chronic sneeze that sounded pretty bad. I begged Cameron to let me bring him to our house to try to help him get better and also to take him to the vet.
at first he still did not use his litter box and was probably getting adjusted to living in a pen in our kitchen. I tried to groom him a little bit everyday to get his coat to be a little cleaner and neater. also, he really liked pets so I gave him lots of pets and head rubs. I also found out he loved to eat vegetables. he was so excited when I gave them to him, and he happily munched it all up.
i took him to the vet, and he got some medicine to help his sneeze. it didn't go away completely though, so even now he still sneezes sometimes. it probably is an old infection that is hard to get rid of.
gradually he started to perk up and his real personality came through again. he started using his litter box more, munching on hay again. he started to groom himself again, and his rex coat started to be nice and soft again. i started to let him out of his pen when i was home and found out he loves to hop around! he would run all around the kitchen and if he heard me open the refrigerator, he would run over to see if he could get any veggies! such a happy, friendly rabbit.
i grew really attached to him and was figuring out how to ask nicely if we could keep him. luckily, my friend asked first! she was so happy that he was doing better and that he would have a nice home here.
the next challenge was to bond kiwi with my other two rabbits, fontina and fubini. i really wanted to help them be friends, especially because kiwi never had other bunny friends as far as we know. having friends helps rabbits be happier and live longer. it was quite a challenge though. fubini and kiwi pretty much got along from the beginning, but fontina was very stubborn and did not like him for a while. i had to sit with the three of them in a pen for two or more hours every day for something like a month. finally they were able to live together! fontina still wasn't best buddies with him, but at least they could be roommates. fubini was a good friend and sat with kiwi in bed and groomed him. i think kiwi was really happy to have a bunny friend finally.
after a few months of living together, we had a Christmas miracle! fontina and kiwi were sitting right next to each other in bed being buddies. now he had two bunny buddies! i was very happy to see everyone bonded and happy.
we don't know his exact age, but kiwi is probably around eight and a half now. he is starting to get old. he has cataracts so his vision is getting worse; he has some foot sores that are common in rexes so i try to make sure he has some towels and beds to sit on; he still has his chronic sneeze that sometimes gets worse and he has to get more medicine; sometimes he loses his balance and falls over; he has some trouble reaching some parts of himself when grooming; recently he lost a lot of weight and had to have blood work done to find out what is going on.
but even with all these things going on, his spirit remains so strong. he still gets so excited to eat his vegetables, he still loves to run down the hallway, he loves munching on hay, he loves getting pets. at the vet he had to get some iv fluids due to dehydration, and even the vet was surprised when right after he was munching on his hay. he is such a wonderful rabbit who really loves life. we are really lucky to have him in our life. i hope we can figure out why he is losing weight and help him get better. hang in there, kiwi.