so for our final class, each group had to come up with an original 6-8 course meal. we weren't allowed to use any recipes from class or from outside, but we could ask our TAs/Tom/judges for help with our ideas. At 1pm the ingredients were all out for us to look at, and the cooking started at 3pm. our group was awesomely hardcore so all of us met at 1pm to look at the ingredients and we spent 2 hours talking about our menu and planning our cooking.
each group got a big chest of meats:

chest o' meat
inside each chest was a rack of lamb, salmon, shrimp, pork, ground beef, frog's legs, 5 lb. tenderloin, chicken, yogurt, lump crab, and maybe a couple other items.
there were also several tables full of produce and spices: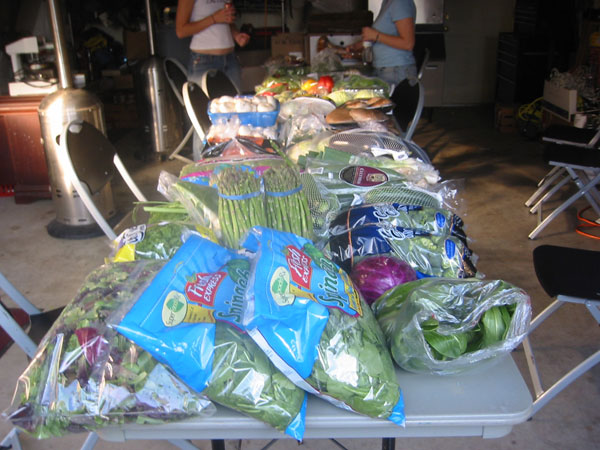 veggies

fruits

lots of spices

more ingredients, like tahini paste, sauces, nuts, oil, etc.
the two ingredients we had to use were frog's legs and astronaut ice cream.
i think we cooked for about 2.5-3 hours. it was pretty busy but a lot of fun, and our group was very happy with what we'd made at the end.
we brought a sample of each course to the judges' table in turns, and they gave some comments and ranked each group. i think there were about 10 judges.
first course: tomato, mozzarella, and basil with some balsamic vinegar
comments: tom made this for us the first class. simple but delicious.
second course: we wrapped shrimp in bacon and grilled it until cooked. served with a slice of lime skewered to it.
comments: we tossed around several ideas for wrapping things in bacon. mmm… bacon.
third course: pan-fried frog's legs with a roasted pepper chutney
comments: we didn't really know what to do with these. we spent most of the time planning our main courses and desserts, so this was kind of an afterthough. we just put a light batter and pan-fried it. the first batch needed more seasoning. then we roasted an orange pepper and put it through the food processor with a couple other things. it wasn't our best dish, but it was okay.
fourth course: palette cleanser in the form of a tropical juice drink served in a pineapple
comments: after seeing all the fruits we had available, we decided to make some sort of fruit drink. we ended up putting in pineapple, oranges, bananas, and i think mangoes. after blending the fruit, we also added the astronaut ice cream with made it a little creamier and thicker. it ended up being really tasty and refreshing.
fifth course: fennel, pepper, and thyme rubbed tenderloin with a mushroom and onion marsala sauce served with butter garlic potatoes, crispy string beans, and small red and yellow peppers.
comments: this course was our baby. i think we spent the most thought and effort on this dish, and it turned out beautifully. we just rubbed the 5 lb. tenderloin in the spices and gave it to the kitchen to bake it to medium rare. the potatoes were first boiled then cooked in the pan with butter and garlic. the vegetables were blanched. it was damn tasty.
sixth course: roasted persimmons and pork (grilled?) salad with a creamy honey dressing
comments: it's been a while since this class so i kinda forgot some of the ingredients. this one turned out really well though. i think this was janice's baby, and it was awesome. tom mannion said this one was most likely to be served in a restaurant out of everyone's dishes. i think the persimmons were grilled so they got a little soft. then the pork was marinated with a bunch of stuff, like ginger and garlic and some sauces. i know the dressing was sweet and i remember honey, but i forget what else was in it.
seventh course: i think we were limited to 7 courses so we served these two desserts together. flourless chocolate cake with a mango cream dressing and mango creme brulee

comments: some of the creme brulee's didn't set, so we used those as sauce for the cake, which ended up being really tasty. both these were very yummy.
here's some more photos from the night:

greg cutting our delicious tenderloin

pretty potatoes and veggies
at the end, our team won! yay! everyone's food looked really good though. our team worked really well together the whole term, and it felt really good to take all we'd learned in the term to design and prepare a great meal together. yay for team three!