the best class ever is the drawing class i am currently taking at the art center. it even beats tom mannion's cooking class! it's from 9-4 every saturday at the art center in pasadena. it's FREE because caltech and the art center have a mini exchange program, but i think most of the exchange is from caltech to the art center. i don't know any art center students that have taken classes at caltech, but maybe there are some.
anyway, since this is a food blog, i'll mention the food. they actually have a really good and cheap cafeteria for the students. you can get a good hearty lunch for 3.50-5.00 dollars. they have freshly made sandwiches, hot prepared food, and a small salad bar. last week they had yummy fajitas.
the following is for my legions of fans (i.e. my brother and bing). here's pictures of my homework (draw your hand and foot using the 3-d technique we've been using for drawing figures) from one of the weeks: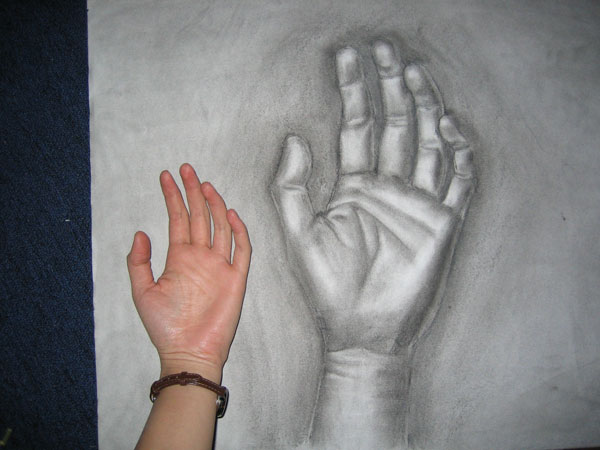 my (giant) hand

my (gigantic) foot
mary (our instructor) said she liked the foot better. she said she'd buy the foot as a picture 🙂 i like the foot better too. lena said my foot isn't actually as beautiful as in the picture.
here's wei's ear (giant size):
and my ear collage (we had to draw an ear with our left hand, right hand, and some kind of creative interpretation):
and finally, since this class is mainly a figure drawing class, some nude figures (but only ones with parts covered up!):
some people in my class liked this one (above, a 40-min pose) a lot, and my mom did too, but i actually don't like this one that much. i feel like the proportions are a little off.
this one was a short 20-minute pose so i just started working on the back. i liked the lay-in a lot though. his head looks a little big… but he did have kind of big hair.
this one is from last week. this was a 60-minute pose (with two breaks). i thought it turned out pretty well. his face turned out okay, but it didn't really look like the model so that kind of bummed me out. i need more practice drawing people's faces.
this class is really awesome. i really love our teacher too. she is really encouraging and nurturing. and she always has helpful comments for everyone. i didn't know anything about drawing the human figure before this class. we started from the basics and built up, and it's been great. i think it's also helped me with drawing in general. last week i tackled the OPI piano…
i don't think i would have done as good a job on this piano if i worked on it before taking this class, and i don't think i would have had enough confidence in my abilities to tackle it either. yay for art center! and thanks to scott for also helping with the main part of the piano (ken and cameron also helped us with the lettering and keys).