so i've been in hawaii for a week now. it is really nice here. it gets pretty warm in the afternoon, but there's always a nice breeze at least. i'm staying in a room on the bottom floor of cameron's house. i'll be like bing and post pictures of it some time later. anyway, what have i been doing so far? mostly relaxing. we didn't really have internet until the weekend, so last week i used that as my excuse not to look for a job. i started reading a couple books from the library: guns, germs, and steel by our commencement speaker jared diamond. he is a good writer but not really a good speaker. also wuthering heights by emily bronte. i almost started this book a bunch of times but never got around to reading it. and rabbit, run by john updike.
i also made some cards 🙂 mmm… i love paper.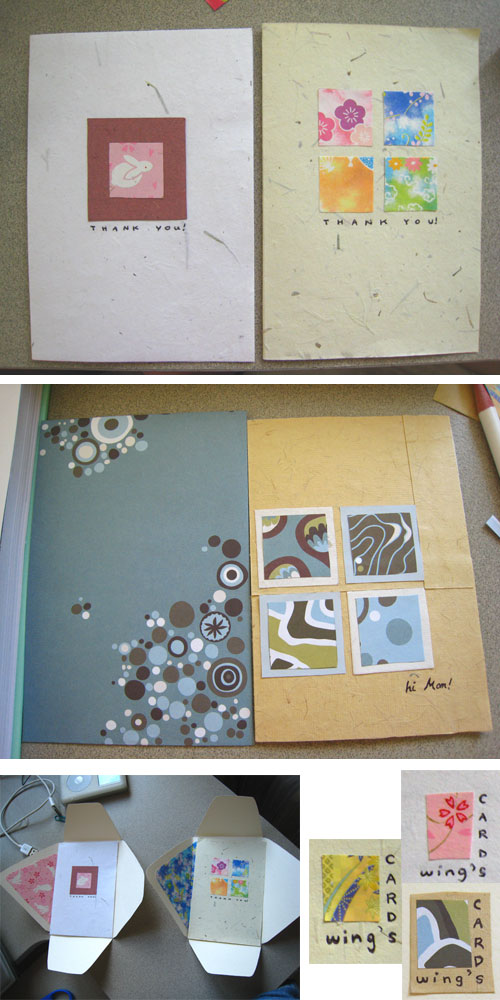 i started a new sketchbook on the plane too. i'm trying to get into the habit of working on it everyday. mmm… also went shopping a bunch of times and went to church and stuff. been playing the wii too. grocery shopping. running. eating mangoes. organizing my room. eating toast.
in terms of food, cameron and i are cooking twice a week. i'll post some of that later. yep, so things have been good so far. this week i started looking for a job! here's a pretty picture i took on the freeway: